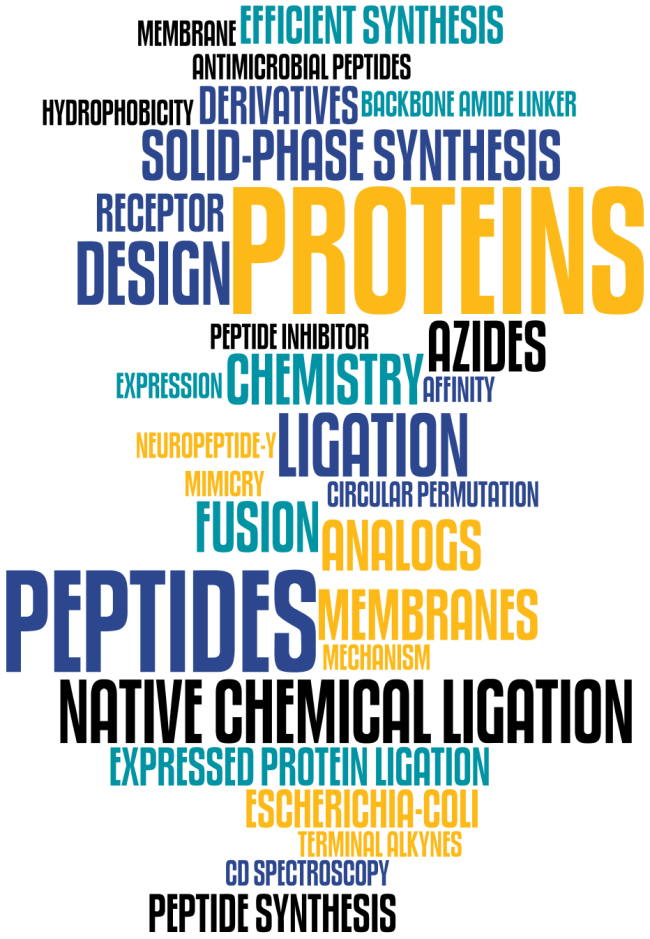 Peptide Inhibitors
Peptide inhibitors are available in stock:
---
Resources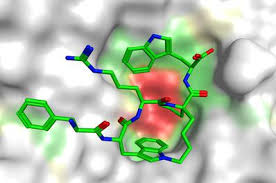 ProTx II, a selective inhibitor of NaV1.7 sodium channel
2018-09-21
Introduction
ProTx II, a 30-amino acid, disulfide-rich peptide toxin, isolated from the venom of the tarantula, Thrixopelma pruriens. This toxin belongs to the inhibitory cysteine knot family and is stabilized by the disulfide frame (C1-C4, C2-C5 and C3-C6). ProTx II has the potency to inhibit the human voltage-gate sodium channel 1.7 (hNa V1.7), which is involved in nociception and might have potential as a pain therapeutic. ProTx-II inhibits Na V1.7 with an IC 50 of 0.3 nM, compared to IC 50s of 30-150 nM for other heterologously expressed Na V1 subtypes.
Biological Activity
ProTx II inhibits current by shifting the voltage dependence of activation to more depolarized potentials. It inhibits multiple sodium channel subtypes but it is reported to be ~100-fold more selective for h Na V1.7. Some studies have pointed out that ProTx-II acts by binding to the membrane-embedded voltage sensor domain of h Na V1.7, but the exact mechanism of action has not been explored clearly. Despite this difference in functional effects, ProTx-II has been proposed to bind to neurotoxin site 4 because it modifies activation. ProTx-II conforms to the inhibitory cystine knot (ICK) 2 motif, a common structural fold among spider toxins targeting ion channels. ICK peptides are defined by a 1-4, 2-5, 3-6 cystine connectivity and often have limited regular secondary structure.
Function
Owing to the well-defined three-dimensional structure and ability to inhibit voltage-gated sodium (Na V), potassium (K V) and calcium (CaV) ion channels with high potency and selectivity, disulfide-rich peptide toxins have attracted much attention as potential analgesics. In addition, voltage-gated sodium channels play important roles in action potential generation and propagation. Among them, Na V1.7 is a crucial contributor to pain sensation, and drugs that selectively target human Na V1.7 (h Na V1.7) could be ideal analgesics. Due to their stability, selectivity and potency, disulfiderich peptides such as ProTx II have been extensively characterized and are vigorously being pursued as drug leads as well as pharmacological tools.
References
1. Schmalhofer, W., Calhoun, J., Burrows, R., Bailey, T., Kohler, M. G., Weinglass, A. B., ... & Priest, B. T. (2008). ProTx-II, a selective inhibitor of NaV1.7 sodium channels, blocks action potential propagation in nociceptors. Molecular pharmacology.
2. Henriques, S. T., Deplazes, E., Lawrence, N., Cheneval, O., Chaousis, S., Inserra, M., ... & Craik, D. J. (2016). Interaction of tarantula venom peptide ProTx-II with lipid membranes is a prerequisite for its inhibition of human voltage-gated sodium channel NaV1. 7. Journal of Biological Chemistry, jbc-M116.
3. Xiao, Y., Blumenthal, K. M., Jackson, J. O., Liang, S., & Cummins, T. R. (2010). The tarantula toxins ProTx-II and HWTX-IV differentially interact with human Nav1. 7 voltage-sensors to inhibit channel activation and inactivation. Molecular pharmacology, mol-110.
---
Inhibition of mast cell tryptase by APC 366
2018-09-21
Introduction
APC 366 [N-(1-hydroxy-2-naphthoyl)-L-arginyl-L-prolinamide], is a novel selective inhibitor of mast cell tryptase. It is a small molecule, first-generation peptidic inhibitor that has been shown efficacy in experimental models of allergic asthma, and it inhibits antigen- induced early asthmatic response (EAR), late asthmatic response (LAR), and bronchial hyperresponsiveness (BHR). APC 366 showed an inhibitory potential with a Ki value of 530 nM and an IC50 value of 1400 ± 240 nM after incubation with human tryptase about 4 h.
Biological Activity
In preclinical studies, APC 366 exhibits a certain inhibitory effectiveness in a sheep model of allergic asthma. Administered by inhalation, the compound blocked allergen-induced bronchoconstriction and reversed airway hyperresponsiveness to carbachol challenge. Research has shown that APC 366 attenuates the EAR, the LAR, BHR, and accompanying influx of inflammatory leukocytes on aerosol challenge with an antigenic extract. APC 366 inactivates tryptase in a time-dependent and irreversible manner involving slow isomerization of the hydroxynaphthyl group of APC 366 followed by nucleophilic attack of a tryptase amino acid side chain to result in the formation of a nonhydrolyzable covalent adduct between inhibitor and enzyme.
Function
The mast cell is a major effector cell in acute allergic reactions. Histamine, heparin, proteases tryptase, chymase and carboxypeptidase are contained in the mast cell granules, and tryptase has been suggested as a good marker for mast cell degranulation. Tryptase has also been implicated in the pathogenesis of asthma, as elevated levels have been found in bronchoalveolar lavage (BAL) fluid from asthmatics. APC 366 has the potential role in the treatment of allergic diseases including asthma, allergic rhinitis, and allergic conjunctivitis, and human mast cell tryptase also has been proven that it can stimulate collagen synthesis in the human lung fibroblast cell line and can have both direct and indirect effects on connective tissue metabolism. Thus, as a tryptase inhibitors, APC 366 might be useful for treating fibrotic diseases such as idiopathic pulmonary fibrosis and scleroderma, in which mast cell involvement has been noted.
References:
1. Krishna, M. T., Chauhan, A., Little, L., Sampson, K., Hawksworth, R., Mant, T., ... & Holgate, S. (2001). Inhibition of mast cell tryptase by inhaled APC 366 attenuates allergen-induced late-phase airway obstruction in asthma. Journal of Allergy and Clinical Immunology, 107(6), 1039-1045.
Sylvin, H., Dahlbäck, M., Van Der Ploeg, I., & Alving, K. (2002). The tryptase inhibitor APC‐366 reduces the acute airway response to allergen in pigs sensitized to Ascaris suum. Clinical & Experimental Allergy, 32(6), 967-971.
---
Function of NoxA1ds in Colon Cancer
2018-08-18
Introduction
NoxA1ds is derived from a peptide whose structure is based on a short sequence of an essential Nox subunit. It binds directly to NOX1 and displaces NOXA1 to inhibit enzymatic activity and biological function. NoxA1ds is a specific, efficacious, and cell-permeant peptidic inhibitor of Nox1 oxidase. NoxA1ds holds significant promise as a broadly useful inhibitor for testing the functional involvement of Nox1 in myriad pathologies in vitro and in vivo. Moreover, NoxA1ds could be useful as an anti-Nox1 therapeutic to ameliorate disease in its own right or as a peptidomimetic.
Pharmacologic action
NoxA1ds was applied to prepare membrane fractions before addition of fractions containing cytosolic subunits (absent in Nox4 and Nox5 preparations) to maximize its ability to inhibit the oxidase. NoxA1ds did not inhibit Nox2-derived O2- production, Nox4-derived H2O2 production, or Nox5-derived O2- production. When NoxA1ds was added to cell-free preparations of the canonical Nox1 oxidase, composed of catalytic subunit Nox1, activating subunit NOXA1 and organizing subunit NOXO1 along with Rac, NoxA1ds inhibited Nox1-derived O2- production with an IC 50 of 19 nM achieving maximum inhibition of 90% at 1.0 M. NoxA1ds does not scavenge either O2- or H2O2 and does not inhibit Nox2, Nox4, Nox5, or XO activity. NoxA1ds was treated as an isoform-specific inhibitor of Nox1. Membrane-integrated fractions from COS-Nox1 cells containing holoprotein Nox1 with its C-terminal tail were incubated with cumulative concentrations of NoxA1ds (10-12-10-5 M) before adding cytosolic fractions containing NOXA1 and NOXO1. NoxA1ds concentration-dependently inhibited O2- production with an IC50 of 20 nM. Maximal inhibition of Nox1 was achieved at 1.0 M NoxA1ds.
Function
The ability of NoxA1ds to cross the plasma membrane was tested by confocal microscopy in a human colon cancer cell line exclusively expressing Nox1 (HT-29) using FITC-labeled NoxA1ds. As the result showed, NoxA1ds significantly inhibited whole HT-29 carcinoma cell-derivedO2- generation. HT-29 cells were treated with a FITC-labeled NoxA1ds variant for 1 h before imaging. Confocal microscopy revealed that NoxA1ds permeated the cell membrane of HT-29 cells and localized to the cytoplasm. The peptide NoxA1ds is a specific inhibitor of Nox1 and this inhibition occurs via binding to the catalytic Nox1 subunit and blockade of Nox1-NOXA1 binding. NoxA1ds selectively inhibits Nox1-derived O2- production by binding Nox1 and preventing the association of Nox1 with NOXA1. NoxA1ds could potentially mimic functional sites in other proteins and thus interfere with their function. Blast was used to compare the sequence of NoxA1ds to the National Institutes of Health translated nucleotide database to determine potential nonspecific protein interactions with NoxA1ds.
References:
1. Martha Sanchez-Rodriguez1, Mariano Zacarias-Flores2, Alicia Arronte-Rosales1, and Víctor Manuel Mendoza-Nuñez. Antioxidant Effect of Hormone Therapy On Oxidative Stress and Insomnia in Posmenopausal Women. Free Radical Bio. Med. 2011 , 51 (11) :S95-S96.
2. Daniel J. Ranayhossaini, Andres I. Rodriguez, Sanghamitra Sahoo, Beibei B. Chen, Rama K. Mallampalli, Eric E. Kelley, Gabor Csanyi, Mark T. Gladwin, Guillermo Romero, and Patrick J. Pagano. Selective Recapitulation of Conserved and Nonconserved Regions of Putative NOXA1 Protein Activation Domain Confers Isoform-specific Inhibition of Nox1 Oxidase and Attenuation of Endothelial Cell Migration. J. Biological Chem. 2013, 288: 36437-36450.
---
Tachykinin NK2 receptor antagonist-MEN 10376
2018-09-21
Introduction
MEN 10376 (Asp-Tyr-D-Trp-Val-D-Trp-D-Trp-Lys-NH2) is an analogue of Neurokinin A (NKA), which has a selective affinity to NK2 tachykinin receptor. Starting from the C-terminal heptapeptide fragment of NKA, NKA (4-10) retains the same agonist activity as parent compound with increased selectivity for NK-2 receptor, and extensive structure-activity studies led to the development of a series of antagonists containing three D-Trp residues, and the MEN 10376 is the most potent compound of this series. Compared to the NKA (4-10) sequence, MEN 10376 has a sequence in which a Tyr residue is present at position 5 and a Lys residue is present at position 10.
Biological Activity
Tachykinins are a family of peptides which share the common C-terminal sequence Phe-Xaa-Gly-Leu-Met-NH2. In mammals three peptides of this family, substance P, neurokinin A and neurokinin B have an established role as transmitters in the nervous systems. The researches have shown that MEN 10376 is found to be preferentially expressed in rabbit pulmonary artery and bronchus, guinea pig bronchus and human ileum and colon, and the role of the configuration of D-Trp8, D-Trp9 and of the charged residue in position 10 has been found crucial in determining the affinity and selectivity of MEN 10376. Affinities of MEN 10376, which is expressed as pA2, is 8.08 in rabbit pulmonary artery, and displays > 250-fold selectivity over NK1 (pA2 = 5.66, guinea pig ileum) and NK3 (Ki > 10 mM, guinea pig brain). MEN 10376 shows a good selectivity for the NK-2A receptor as compared to NK-2B receptor, with a 100-fold difference in affinity.
Function
NKA, a member of the tachykinin peptide family, is widely distributed in the mammalian central and peripheral nervous systems. In the latter, NKA exerts its biological effects mainly by activating the tachykinin NK2 receptor. Tachykinin NK2 receptor antagonists are potential candidates for the treatment of bronchial hyperreactivity, irritable bowel syndrome, cystitis and other pathological conditions putatively mediated by endogenous tachykinins. This has prompted the search for potent and selective NK2 receptor antagonists as drug candidates. Experiments on isolated bronchial tubes and isolated bladders in guinea pigs showed that the affinity of MEN 10376 for the NK2 receptor was much greater in the former than in the latter formulation, and it appears that MEN 10376 may be a very valuable tool to assess the biological role of tachykinins in vivo, thus extending the information to the specific role of NK2 receptors (and possibly NK2 receptor subtypes) in relevant physiological responses.
References
1. Maggi, C. A., Giuliani, S. A. N. D. R. O., Ballati, L. I. D. O., Lecci, A. L. E. S. S. A. N. D. R. O., Manzini, S. T. E. F. A. N. O., Patacchini, R. I. C. C. A. R. D. O & Giachetti, A. N. T. O. N. I. O. (1991). In vivo evidence for tachykininergic transmission using a new NK-2 receptor-selective antagonist, MEN 10,376. Journal of Pharmacology and Experimental Therapeutics, 257(3), 1172-1178.
2. Quartara, L., Patacchini, R., Giuliani, S., Renzetti, A. R., Rovero, P., & Maggi, C. A. (1992). N-terminal truncated analogs of men 10376 as tachykinin NK-2 receptor antagonists. Life sciences, 51(25), 1929-1936.
Inhibitors of Aspartic Proteases-Acetyl Pepstatin
2018-08-18
Introduction
Acetyl pepstatin, nature products of yeast fermentation, is general inhibitors of the family of aspartic proteases with the structure of Ac-Val-Val-Sta-Ala-Sta-OH, where staine (Sta) is the rare amino acid (4S,3S)-4-amino-3-hydroxy-6-methyheptanoic acid. It is a high affinity aspartic protease inhibitor for HIV-1 protease (Ki = 20 nM at pH 4.7) and HIV-2 protease (Ki = 5 nM at pH 4.7).
Biological Activity
A number of known inhibitors of aspartic proteases (PRs) were tested for their inhibitory properties against HIV-1 PR as soon as this enzyme was first isolated. One of the first ones was pepstain A, but another statine-containing compound, acetyl pepstatin, was subsequently described as a substantially more potent inhibitor of the HIV-1 PR, and the pH dependence of the binding was also demonstrated. The inhibitory effect of acetyl pepstain was found to have an apparent Ki value of 2.0×10-8 M at optimal pH. The crystallographic structure of acetyl pepstain bound to HIV-1 protease has shown that the inhibitor is bound in two approximately symmetric orientations. Bingding is stabilized by a network of hydrogen bonding and can der Waals interaction with the protease. Acetyl pepstatin is not only found to inhibit HIV-1 protease effectively, but also HIV-2 protease and 125I-H77, a renin inhibitor, from binding to other aspartyl proteases.
Function
The HIV-1 protease has been the most important target in the development of antiviral therapies against HIV-1 infection. Based on the presence of the single signature sequence aspartic acid-threonine-glycine, as well as some weak homology with the eukaryotic aspartic proteases such as pepsins, it was suggested that the HIV PR and other retroviral proteases might belong to the same family. The family of aspartyl proteases has been intensely studied in the past, and knowledge gained from studies of these enzymes has allowed early inferences as to the structure and function of the dimeric HIV PR. Moreover, the intensive effort over the past two decades to make inhibitors of human renin, a member of the family of aspartic proteases, has provided great impetus to design inhibitors of HIV PR. In fact, some of these renin inhibitors have turned out to be effective inhibitors of HIV PR as well, and have served as the starting point for drug design.
References:
Krisztina Matú z1, János Mótyán1, et al. Inhibition of XMRV and HIV-1 proteases by pepstatin A and acetyl-pepstatin. Febs Journal, 2012, 279 (17), 3276-3286.
Krzysztof Appelt. Crystal structures of HIV-1 protease-inhibitor complexes. Perspectives in Drug Discovery and Design, 1993, 1, 23-48.
Matthew J. Todd, Ernesto Freire. The Effect of Inhibitor Binding on the Structural Stability and Cooperativity of the HIV-1 Protease. PROTEINS: Structure, Function, and Genetics, 1999, 36,147-156.
Yvan Boulanger, Louis Sené;cal, Gilles Sauvé. Solution Structure of the HIV Protease Inhibitor Acetyl-pepstatin as Determined by NMR and Molecular Modeling. Journal of Biomolecular Structure & Dynamics, 1997, 14 (4), 421-428.