A variety of peptides are used in cosmetics. According to their mode of action, they have been classified into four main groups: signal peptides, carrier peptides, neurotransmitter peptides and enzyme inhibitor peptides.
Peptides are used in cosmetics for a variety of reasons depending on the type of peptide used. We'll dive deeper into the different types but the primary reasons for including peptides in formulas include anti-aging effects, anti-irritation effects, and marketing. The most effective of these reasons is the marketing story that the peptides allow you to tell. But there is at least some evidence that peptides in cosmetics have some effect.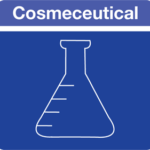 In present scenario people who are looking for the best skin-care products and cosmetic manufacturers have peptides as an ingredient at the top of their list
The skin comprises of natural peptides, that contribute to the structural strength of the skin and keep it elastic. But peptides used in skin care which are lab-created work in exactly opposite way i.e. inside out. The strands of amino acids infiltrate the skin to address common skin-care problems, including wrinkles and loosening of skin.  The effectiveness of peptides in skin care product quite remarkable and hence they tend to be really expensive.
Types of peptides used in skin care products:
PalmitoylPentapeptide, also named as Matrixyl, and MyristoylPentapeptidearespecific pentapeptides found in skin care products. Collagen and hyaluronic acid are the two natural components of skin that helps to support the skin structure and helps to keep the elasticity of the skin intact loss of which results in wrinkles and sagging skin, the pentapeptide works by stimulating these two natural compounds in skin.
Copper peptides catch up with molecules of copper to carry out their function. The amalgamation of peptide molecule and copper molecules make their way into the deeper layers of the skin. Once they reach inside the epidermal layer of the skin they start stimulating collagen growth and promote skin healing. Since the size of the copper peptide is really small, they are able to penetrate several skin layers inducing extremely high effects, which is why the demand for copper peptide in skin care industry has been on the rise
Neuropeptides perform by successful stimulation of neurotransmitters in the skin, due to which nerve cells in the skin stop interaction and relax. When the skin cells stop communicating it results in smoother and wrinkle free skin.